Jenny Claydon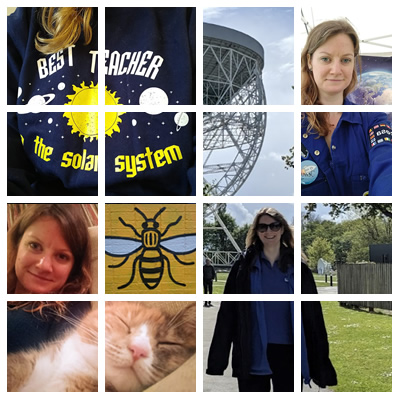 Role
Teacher Liaison Officer
Background
I was a Planetary Scientist at the Natural History Museum and at the University of Manchester, where I received my PhD. My research involved using meteorites to investigate how our Solar System formed and changed over time. I studied very small pieces of meteorites with powerful microscopes and zapped them with lasers or plasma to unlock the secrets of the stuff from which our Solar System is made.
While working as a scientist, I became more interested in engaging the public with science, especially families and children. I completed a PGCE in Primary Teaching and then joined the Engagement Team at Jodrell Bank Discovery Centre. I was there for over three years, teaching school groups of all ages about space, running activities and science shows for families, and putting on specialist evening astronomy events. I joined The Schools' Observatory in June 2020 and love helping more schools doing get involved with astronomy and STEM!
Favourite Astronomical Object
It's got to be the Moon. It's a great object to look at when you're starting astronomy, plus it's the only place in space people have visited! Get a pair of binoculars and aim them at the terminator line (the line between light and dark) and you'll be able to see shadows cast by features on the Moon. You can also look for craters (holes made by meteorites hitting the Moon) and maria (huge plains of dark rock that used to be lava).  
About me
I love to learn new things. I'm curious about science and nature, art and architecture, films and food. I like to spend my time out on walks, visiting galleries, going to the cinema, and exploring my new town of Liverpool.
Pronouns: she/her/hers
Contact Details
You can contact Jenny at SchoolsObs@ljmu.ac.uk.