Our theme this month: Innovation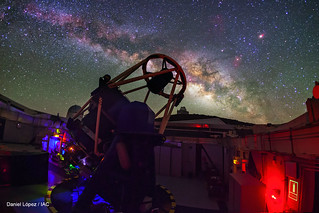 'Innovation for the future' is the theme for British Science Week 2021. Innovation has driven the space industry since its very beginnings. And astronomy drives innovation in technology; challenging computing, communication & engineering industries to innovate. ⁠
Challenge yourself to explore some of this history by completing our British Science Week online treasure hunt!
National Careers Week: 1 - 5 March
We had a great time taking part in one of All About STEM's Employer Encounters at the start of this week. Our new bitesize video 'Linking Curriculum with Careers' will be coming soon - watch this space!
Our careers site contains many inspiring innovators. This month's NSO Career Hero is Anna Scaife. Anna is part of the global team working on the Square Kilometer Array telescope. 
To learn about the different job available in the space sector and challenge common stereotypes why not try our Space Jobs Lesson Activity with a group of young people?
Just a reminder that our annual Work Experience Week will be virtual again this year. Applications are still open to UK and Irish students aged between 16 and 18.
Merseyside Astronomy Day: 27 March
Merseyside Astronomy Day is a chance to hear about the cutting-edge research being done by some of the world's leading astrophysicists. This year's event takes place online. Book your FREE place for the event!
⁠
STEM activity of the Month - Eggnaut
Were you inspired by the successful landing of the Perseverance Rover on the surface of Mars?! Challenge yourself to design, construct, and test your own vehicle to land precious cargo on another world. This Eggnaut activity is part of our STEM Club offer.
Share your observations
We love to see the images you have created from your observations. Share your images with us and they might feature in the #ShowtheNSO gallery!
You can share your images with us in one of the following ways:
Visiting our Show the NSO forum and uploading your image. You can also use the forums to ask for advice about your astronomical observations.