Gamma-ray Bursts
Gamma-ray Bursts (GRB) are very short-lived but very intense bursts of gamma-ray radiation. If we take a look at the electromagnetic spectrum we can see that GRBs are even higher in energy than X-rays, making the events which create them in such high quantities and at such a short timescale extremely high-energy events. 
GRBs were first discovered in 1967 by the Vela satellites; satellites whose purpose was to detect Soviet nuclear missile tests which breached the nuclear test ban treaty. The Vega satellites were carrying gamma radiation detectors because nuclear missile explosions emit such radiation; this is why the satellites picked up detections of intense, bright gamma-ray bursts coming from outside our solar system. The farthest known GRB to have been detected was by the Very Large Telescope (VLT) at a redshift of 8.2. The light from this GRB travelled for 13 billion years before reaching Earth and released what is thought to be over 300 times the amount of energy that the Sun will emit in its entire lifetime - truly lending support to how high in energy such events can be.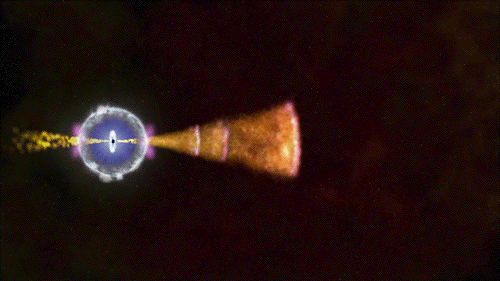 The two types of Gamma-ray Bursts

GRBs can vary in timescale; from milliseconds to minutes. One of the focal points of GRB research is currently investigating the cause of the different types and what causes the timescale and energy differences. 
Short gamma-ray bursts
       GRBs with a timescale (duration) of anything under two seconds are considered to be short gamma-ray bursts and make up for approximately 30% total number observed. The mean duration is 0.2 seconds and have been linked to the high-energy merging events between two neutron stars or a black hole and a neutron star (only two of such possible scenarios, merging events with more of these celestial bodies involved with hypothetically give rise to more/stronger GRBs). The relativistic gamma-ray bursts that are emitted from such events can be seen illustrated in Figure 1; the magnetic field strengths of objects such as black holes and neutron stars being so strong gives rise to the emission of GRBs in the form of jets from the source's poles. 
   2. Long gamma-ray bursts
       GRBs with a timescale of anything over two seconds is considered to be a long gamma-ray burst and make up for the other 70% observed. These events have been investigated in greater detail due to their longer durations, that there are more of them and that they also have brighter 'afterglows'. These GRBs have been linked to the deaths of massive stars in galaxies with rapid star formation; supernovae are another form of a high-energy event when a star collapses under its own gravity and explodes.