Aomawa Shields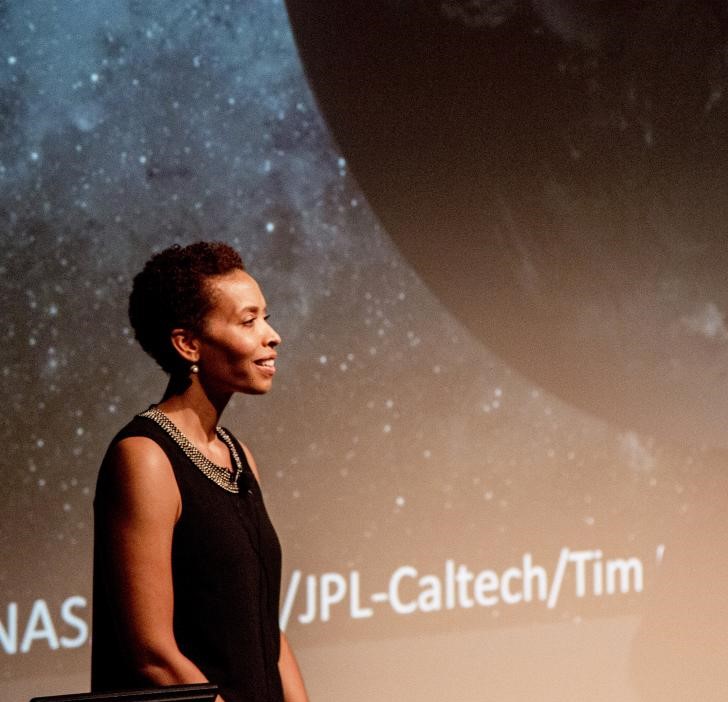 Occupation: Astronomer and Science Communicator
Research Areas: Astrobiology, Exoplanets
"There was always this feeling that I had to be a certain type of scientist… I don't believe that anymore."
Source: University of California, Feb 2017
Early Life
Aomawa grew up in New Hampshire, USA. She wanted to be lots of things when she was young (including a cheerleader or an orthopaedist) but became interested in astronomy after watching the film 'Space Camp' when she was 12. Aomawa used to get up early in the morning to see Jupiter's moons in the sky. She studied Earth, Atmospheric and Planetary Sciences at university but then took a break from science, studying for a Master's degree in Acting.
Career Highlights
Aomawa went from answering the helpline at the Spitzer Space Telescope to co-hosting a TV show called 'Wired Science'. She decided that a postgraduate science qualification would help her career and, eleven years after her first degree, Aomawa went back to university to complete a Master's degree and a PhD in Astronomy and Astrobiology.
Aomawa's research tries to answer the question "are we alone in the Universe?". She uses data from the Kepler telescope to hunt for planets around other stars (called exoplanets) that might have the right environment for life. To do this, Aomawa takes computer models of climate and weather on Earth and applies them to exoplanets. The goal is to narrow down the list of exoplanets so that astronomers know which ones are most likely to support life (like ours) and where to point their telescopes.
Legacy
Aomawa developed an interactive workshop that encourages young girls to think about life on other worlds as well as how they see themselves. Aomawa is also the founder of 'Rising Stargirls'. This project combines her love of space as well as her passion for theatre. The aim of the organisation is to encourage girls from all backgrounds to explore the Universe through acting, writing and art.
Other Interests
Aomawa is a trained actor and violinist. She has acted in films, published poetry, and is passionate about combining art and science.