MiMi Aung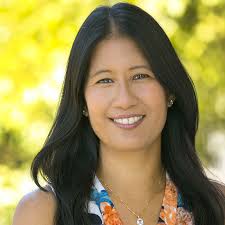 Occupation: Engineer & Project Manager
Year born: 1968
Research Areas: Deep Space Exploration
"It's more than just flying on another planet. It will open doors to a whole new class of exploration."
Source: There are no shortcuts when you build a drone destined for Mars, Oct 2019
Early Life
MiMi was born in the USA and moved to her parent's home country of Myanmar when she was two and a half. She was inspired by her mother to study science, maths and engineering. Her mother was the first women in Mayanmar to get a PhD in mathematics. MiMi says her mother was very technical, practical and logical.
She had a happy childhood in Myanmar and Malaysia, though her family were not wealthy. MiMi became interested in space science at high school. When she was 16, MiMi travelled by herself to the USA to go to school there. She lived with friends of her family.
MiMi studied electrical engineering at University of Illinois. During her master's degree, one of her professors told her about NASA's work in deep space exploration. She worked really hard to get an interview with NASA's Jet Propulsion Laboratory (JPL) and started working there in 1990.
Career Highlights
JPL was the perfect place for MiMi to apply her engineering skills, and her love of space and maths. She worked on making sure that signals sent from spacecraft were received clearly. JPL gave MiMi more responsibility and promotions. She started designing systems for deep space networks and new technology for the next generation of spacecraft.
MiMi became one of NASA's lead engineers. She led the a project to fly the first helicopter on another planet. The 'Ingenuity' helicopter and 'Perseverance' rover launched to Mars in summer 2020. They landed on Mars in February 2021 and Ingenuity made its first successful flight in April 2021. MiMi's team faced a lot of challenges making the helicopter. Mars' atmosphere is a lot thinner than Earth's. This means to keep the helicopter in the air, the blades must spin very fast and it can't weigh more than 2 kilograms. Ingenuity's mission on Mars is to help Perseverance find the best routes around Mars.
In 2021, after 30 years working for NASA, MiMi started a new job at Amazon. She is part of the team managing Project Kuiper. This project aims to use satellites to increase access to broadband internet.
Legacy
MiMi was chosen as one of the top 100 inspiring and influential women in the world by the BBC in 2019.